Dr. Anupam Majumdar
Nephrology
MBBS, MD(MED), DNB( NEPHRO)
Dr. Anupam Majumdar is an eminent nephrologist in Kolkata who was attached with AMRI hospital mukundapur as consultant nephrologist for 1 year. The expert has been associated with lots of reputed health care bodies and hospitals. His extensive and rich experience in nephrology has gained him all the popularity. Currently he is practicing as nephrologist in ILS Hospital, Agartala, Tripura.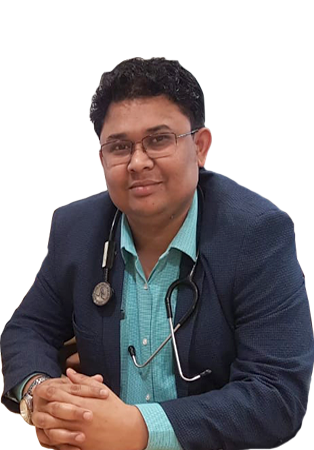 In 2003, after passing his 12th from Umakanta Academy, Dr. Anupam Majumdar got admission to MBBS course at Darbhanga Medical College followed by Tripura joint entrance examination. After completing his MBBS and internship in 2010, he started preparing for the All India Post Graduate Entrance Exam. After getting a good rank in the first attempt at AII INDIA POST GRADUATE ENTRANCE EXAM, he enrolled in Nilratan Sircar Medical College, Kolkata in 2011 and passed his MD in General Medicine in 2014.
During his tenure as an assistant professor at Tripura Medical College, Agartala, Dr. Anupam Majumdar prepared for his All India DNB entrance test. In 2015, he enrolled in DNB Nephrology in R. N. Tagore Hospital, Mukundapur. During the three years of the DNB course, he also worked with Dr. Pratik Das.
After completing his DNB in nephrology, Dr. Anupam Majumdar was associated with Medica Super Speciality Hospital for one and a half years. He served as an associate Nephrology consultant with Dr. D. K. Pahari, a world famous nephrologist.
SERVICES AT ONE GLANCE
What Made Him
An Expert?
Currently, Dr. Anupam Majumdar is serving as a full-time transplant physician and consultant nephrologist at the AMRI hospital, Mukundapur. His reputation and vast experience in the field have helped him to secure the position of a top kidney transplant doctor in Kolkata.
BOOK WITHIN MINUTES
Make An Appointment
the doctor you prefer to get a checkup and book a visit with them in a matter of minutes.