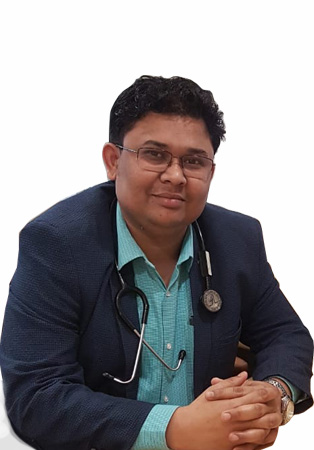 About Me
Dr. Anupam Majumdar
Nephrology
MBBS, MD(MED), DNB( NEPHRO)
Currently he it practicing as nephrologist in ILS Hospital, Agartala, Tripura.
Dr. Anupam Majumdar is eminent nephrologist in Kolkata was attached, with in AMRI hospital mukundapur as consultant nephrologist for 1 year. The expert has been associated with of reputed health care bodies and hospitals. His extensive and rich experience in nephrology has gained the popularity. Currently he it practicing as nephrologist in ILS Hospital, Agartala, Tripura.
After pursuing his MBBS from Darbhanga Medical College and Hospital in Bihar, Dr. Anupam Majumdar enrolled it Nilratan Sircar Medical College and Hospital for post-graduation in Medicines. After post-graduation, Dr. Majumdar join DNB Superspeciality it nephrology dept. in Rabindranath Tagore International Institute of Cardiac Sciences.
Currently, Dr. Anupam Majumdar is serving as a full-time transplant physician and consultant nephrologist at the AMRI hospital, Mukundapur. His reputation and vast experience in the field have helped him to secure the position of a top kidney transplant doctor in Kolkata.
BOOK WITHIN MINUTES
Make An Appointment
the doctor you prefer to get a checkup and book a visit with him in a matter of minutes.
Despite his vast knowledge and sublime mastery over medicine, I find it awe inspiring that Dr. Majumdar manages to retain his easy self and composure, with no sign of pomposity. Clearly the greatest, brightest and friendliest Doctor I've met.
Excellent doctor, hears the patients words and give them right advice, whenever I call him, he hear about my kidney transplant problem and give me the right advice, I thank him from the heart……..⚘
Nice service by medithics and doctor anupam. By gods grace my mother is fine now. Thanks.
Sometimes People say dr. r good or bad when they don't get proper survice from them.but they r never try to give bad treatment to patients. Dr. Anupam is cool calm with patients n give gd treatment and also gd human beings.
Very neat, courteous & most of all a brilliant young man.
I have been suffering from kidney problems for the last few months and one of my relatives suggested the name of Dr. Anupam Majumdar. I recently have undergone a successful kidney transplantation surgery and I am feeling quite good these days.
Before seeking help from Dr. Anupam Majumdar, I was under another nephrologist who couldn't provide effective help. After conducting a biopsy, Dr. Majumdar detected that I am a kidney transplant patient. My transplant surgery was done on October 2019. My kidney has been functioning well since then.